LifeProof makes remarkable products that inspire people to live and share a life without limits. For LifeProof's new iPhone 6 case launch, they wanted to address and solve the common problem of using the iPhone 6 as an extension of one's action-packed lifestyle. The user can now take their phone anywhere and everywhere —

never leaving it behind.
The message speaks to the active individual who is no stranger to going "all in," using powerful visuals and relatable language. Though the context may differ,

'Leave Nothing Behind'

is a familiar battle cry for all athletes and action enthusiasts alike. LifeProof now gives the user the freedom and ability to capture, record and share all of their stories, adventures, travels, and more.
The company approached us to create four magnificent visuals to launch their remarkable iPhone 6 cases. Four is not a coincidence, the LifeProof 
product is designed to "PROOF" the device for life through protecting it from: Water, Snow, Dirt and Drops. Our goal was clear - to create visuals to give an expression of LEAVING NOTHING BEHIND, capture that action sequence of that day out on the trail, the road, the lake, and the slopes and present that as beautifully as possible. 



Read more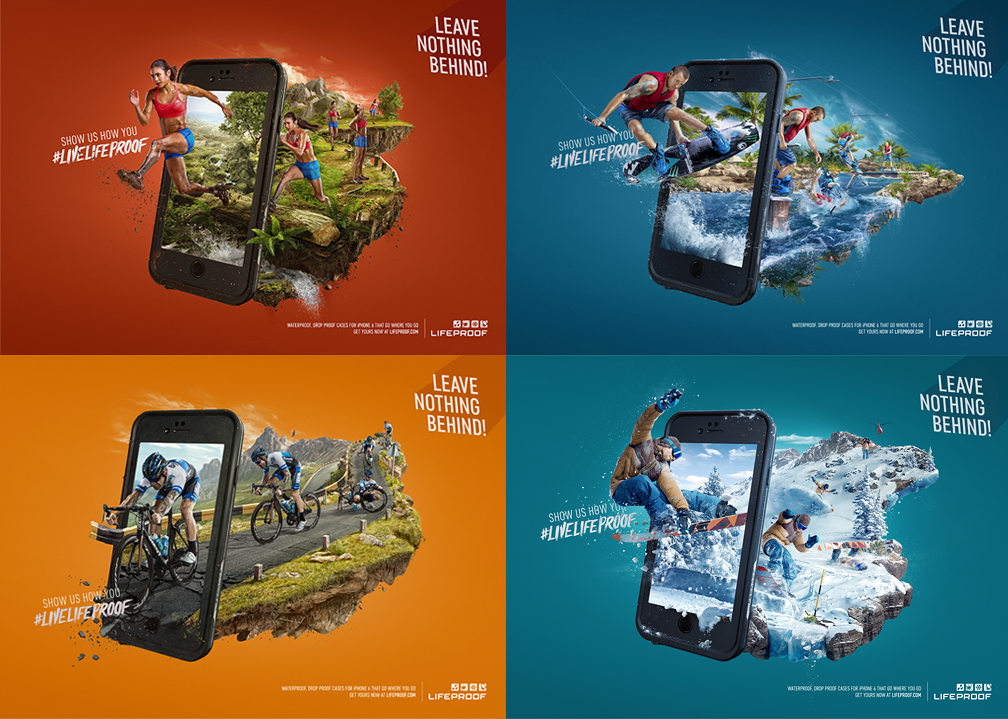 For the purpose of the campaign a photo shoot was arranged back to U.S. We have received photos of athletes assigned to a specific topic of illustration. WaterProof = Wakeboarder, SnowProof = Snowboarder, DirtProof = Runner and ShockProof = Cyclist. And then pure mix of techniques began. Our 3D Artists, Digital Artists, and Retouchers joint forces a created pictures full of adventure.
Client:

LifeProof


Creative Director:

David Oldfield


Photographer:

Justin L'Heureux


Photograph Production:

Verity Hoskins


Communications Manager:

Katja Zimmermann
Production Studio:
Ars Thanea
Executive Creative Director:

Peter Jaworowski


Producer:

Marcin Molski


Art Director:

Karol Klonowski


Concept Artist:

Michał Lisowski


Digital Artists:

Karol Klonowski, Marcin Kowalski, Łukasz Wiktorzak


3D Lead Artist:

Paweł Szklarski


Modeling & Textures:

Anna Mierzejewska, Łukasz Skurczyński, Jakub Włodarczyk


Shading:

Anna Mierzejewska, Jakub Włodarczyk, Paweł Szklarski


Business Unit Director:

Marcin Molski